I technically have 8 months left living and working in Germany…therefore, I feel the need to make sure I take full advantage of the time I have left to do and see as much as possible. Below is a map of the places I've been to in the world. I plan on adding to it this year and continuing to do in the years to come!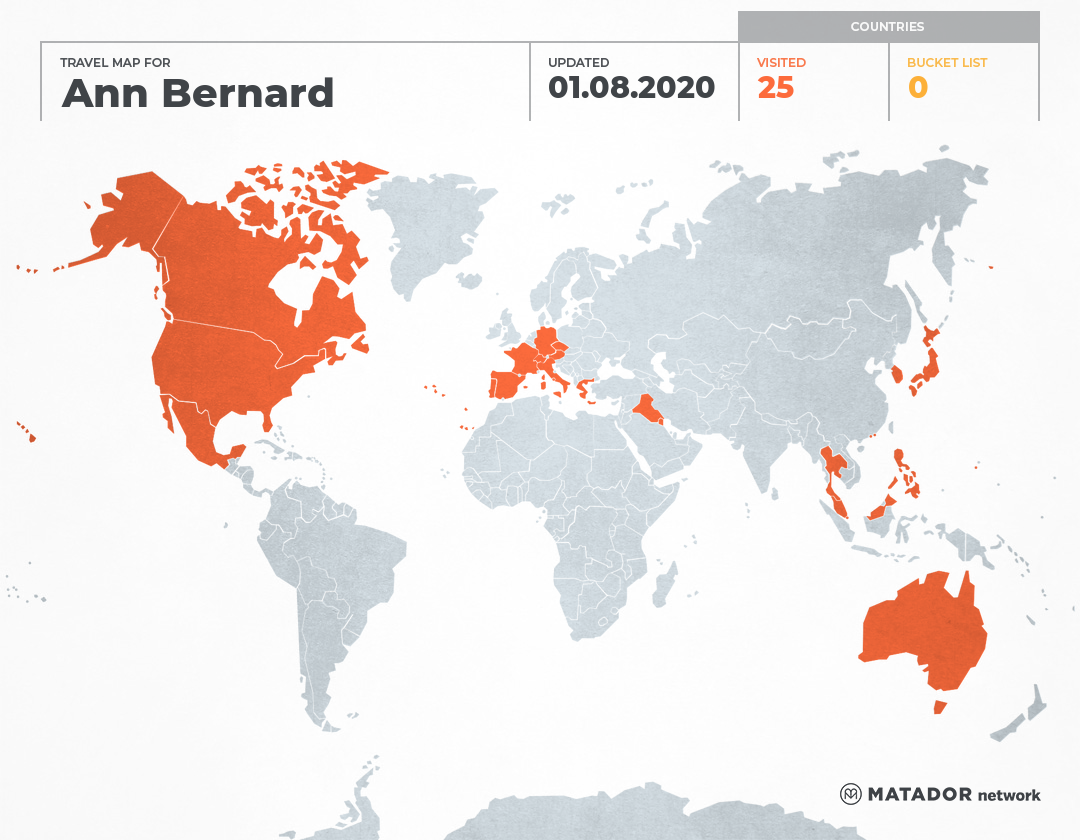 I have some plans already solidified (that is to say at least my hotel and flights are booked) which include Carnival in Venice and Mountain Biking in Morocco.
Last year I never make it to Croatia, more specifically Dubrovnik, so I'll be making sure to go this year where it's easy to enjoy some kayaking and snorkeling. I came across some multi-sport options in Corte France…I was oblivious the French Island of Corsica even existed before stumbling on it through my Googling. I'm in contact with Altipiani Outdoor Sports trying to make some plans for summer.
Additionally, I would really like to attend TBEX Europe in Spain…but the organization has yet to reply to my tweets and emails about their unsecure website. I refuse to provide my credit card information online unless, I know the site is secure. I've been very disappointed by their lack of responsiveness.
So while those are my more "planned" trips – I also aspire to make it to:
Germany: Munich, Dresden, Cologne, and Kromlau (at a minimum)
Switzerland: Zurich, Bern and Genève
Austria: Vienna
Liechtenstein
Hungary: Budapest
Netherlands: Amsterdam and The Hague
Belgium: Brussels and Burges
See Also
I plan on visiting the major cities early Spring because as soon as the weather warms up; I'm not going to be interested in being indoor.
I want to return to France as well…looking into multi-day mountain biking trip options.
I would love to explore Montenegro, Malta and Cyprus, but not sure time and money will permit.
Additionally, I'd really like to go spend a lot more quality time in Italy.
I'm going to do the best I can with the time and resources I have. Wherever I don't get to…I'll simply have to return to down the road.
Needless to say, it's going to be a busy and exciting next 8 months!!